A few months have passed and it is now high summer. For the Sugdens it's a busy time, with the harvest to get in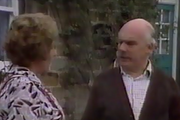 and the annual cricket match on the horizon.
SHEILA MERCIER - Annie Sugden
FREDERICK LYNE - Matt Skilbeck
FRAZER HINES - Joe Sugden
TOKE TOWNLEY - Sam Pearson
ARTHUR PENTELOW - Henry Wilks
RONALD MAGILL - Amos Brearly
GWEN HARRIS - Lilly Cooper
ADRIENNE FRANK - Lucy Stubbs
GEOFFREY HOOPER - Walter
Writer - KEVIN LAFFAN
Director - PADDY RUSSELL
Producer - MICHAEL GLYNN
Executive Producer - DAVID CUNLIFFE
First episode shown since 18th May 1976. This has been the longest time the show has been off air to date.
First episode produced by Michael Glynn.
Ad blocker interference detected!
Wikia is a free-to-use site that makes money from advertising. We have a modified experience for viewers using ad blockers

Wikia is not accessible if you've made further modifications. Remove the custom ad blocker rule(s) and the page will load as expected.