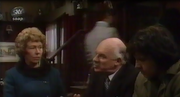 Robert Sharp
gets more than he bargained for when he finds that if he is entitled to half of
Joe Sugden
's share in 
Emmerdale Farm
that Joe is also half entitled to half of Robert's dairy farm. As 
Christine Sugden
is more well off than Joe, 
Henry Wilks
says Joe can sue for maintenance on Christine's share. Henry suggests no claims on either side be made. Robert gets a flea in his ear and walks out, his scheme has backfired. 
Dick Robertshaw
starts to renovations on Emmerdale.
FRAZER HINES - Joe Sugden
FREDERICK PYNE - Matt Skilbeck
SHEILA MERCIER - Annie Sugden
ARTHUR PENTELOW - Henry Wilks
RONALD MAGILL - Amos Brearly
TOKE TOWNLEY - Sam Pearson
BERNARD KAY - Robert Sharp
ALAN DAVID - Dick Robertshaw
POLLY HEMINGWAY - Kathy Gimbel
RICHARD BORTHWICK - Mel Openshaw
Writer - JEREMY BURNHAM
Director - ROGER CHEVELEY
Producer - ROBERT D CARDONA
Executive Producer - DAVID CUNLIFFE
Last episode until 3rd January 1977. That episode picked up from a few months from the end of Episode 322 on 18th May 1976.
Final episode produced by Robert D Cardona. Michael Glynn was his successor.
Ad blocker interference detected!
Wikia is a free-to-use site that makes money from advertising. We have a modified experience for viewers using ad blockers

Wikia is not accessible if you've made further modifications. Remove the custom ad blocker rule(s) and the page will load as expected.