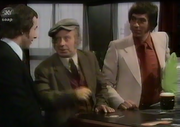 Jack Sugden
is ready to leave Beckindale again after his few weeks back. Meanwhile a disgruntled 
Robert Sharp
is looking for 
Joe Sugden
and seems to want to have some words to say to him about
Christine
. The following morning Jack gets into a taxi and leaves for the airport. The others all wave him off.
Sheila Mercier - Annie Sugden
Frazer Hines - Joe Sugden
Andrew Burt - Jack Sugden
Toke Townley - Sam Pearson
Frederick Pyne - Matt Skilbeck
Ronald Magill - Amos Brearly
Arthur Pentelow - Henry Wilks
Polly Hemingway - Kathy Gimbel
Richard Borthwick - Mel Openshaw
Bernard Kay - Robert Sharp
Alan David - Dick Robertshaw
Writer - Alick Rowe
Director - Nick Gray
Producer - Robert D Cardona
Executive Producer - David Cunliffe
Last appearance of Jack Sugden until Episode 555 (19th February 1980) and final appearance of Andrew Burt in the role.
Ad blocker interference detected!
Wikia is a free-to-use site that makes money from advertising. We have a modified experience for viewers using ad blockers

Wikia is not accessible if you've made further modifications. Remove the custom ad blocker rule(s) and the page will load as expected.