Joe Sugden is in a mood at
Emmerdale Farm
. He snaps at Matt. Nan Wheeler calls in on the Woolpac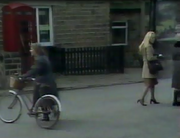 k. Tad Ryland is struggling with his sick wife, whom Nan is looking after. Tad tells Nan "Dont scold" a few times when she is nagging him. Bella Ryland, Tad's wife is admitted to hospital after she takes a turn for the worse when Jack Sugden is visiting him. As Amos and Mr Wilks are having lunch, Amos suggests that Tad is seeing Nan while Bella is dying of which Henry loses his temper, as his wife had to have a carer when she was dying. Henry says he would have swung for anyone who suggested the things Amos had bene hinting at. He storms out round to Emmerdale Farm where he is actually a bit sorry that he had a go at Amos.
SHEILA MERCIER - Annie Sugden
FRAZER HINES - Joe Sugden
ANDREW BURT - Jack Sugden
TOKE TOWNLEY - Sam Pearson
FREDERICK PYNE - Matt Skilbeck
ARTHUR PENTELOW - Henry Wilks
RONALD MAGILL - Amos Brearly
VICTOR WINDING -Tad Ryland
ANNA CROPPER - Nan Wheeler
Writer - TONY HENSHALL
Director - DAVID REYNOLDS
Producer - ROBERT D CARDONA
Executive Producer - DAVID CUNLIFFE
Ad blocker interference detected!
Wikia is a free-to-use site that makes money from advertising. We have a modified experience for viewers using ad blockers

Wikia is not accessible if you've made further modifications. Remove the custom ad blocker rule(s) and the page will load as expected.