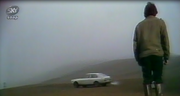 Christine Sharp
decides to leave
Beckindale
, for good this time. After a meeting on the moors Christine drives off leaving 
Joe Sugden
stood watching. Also 
Rosemary Kendall
decides it is time to leave 
Emmerdale Farm
and return to her mother. Sam Pearson is a bit shaken when Rosemary tells him she is leaving tomorrow. He says to Annie that he will miss her. In the stables Joe and Rosemary share a kiss before she walks out.
Main cast

FRAZER HINES - Joe Sugden
SHEILA MERCIER - Annie Sugden
TOKE TOWNLEY - Sam Pearson
FREDERICK PYNE - Matt Skilbeck
ARTHUR PENTELOW - Henry Wilks
RONALD MAGILL - Amos Brearly
LESLEY MANVILLE - Rosemary Kendall
ANDREW BURT - Jack Sugden
ANGELA CHEYNE - Christine Sugden
Guest cast
Writer - PETER WHITBREAD
Director - ROGER CHEVELEY
Producer - ROBERT D CARDONA
Executive Producer - DAVID CUNLIFFE
Final appearance of Christine Sharp.
Final appearance of Rosemary Kendall.
Ad blocker interference detected!
Wikia is a free-to-use site that makes money from advertising. We have a modified experience for viewers using ad blockers

Wikia is not accessible if you've made further modifications. Remove the custom ad blocker rule(s) and the page will load as expected.