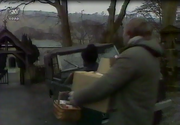 Matt Skilbeck
takes 
Rosemary Kendall
for a drive in the village where they see 
Christine Sugden
stood at the grave of
Samuel and Sally Skilbeck
. Matt goes to greet Christine at the grave where she offers her condolences. She kisses Matt. Later on Chrsitine meets 
Annie Sugden
and tells her that her marriage to Joe has no hope. 
Jack Sugden
sees Chrsitine by the river, his first meeting with his sister in law.
Toke Townley - Sam Pearson
Lesley Manville - Rosemary Kendall
Andrew Burt - Jack Sugden
Frederick Pyne - Matt Skilbeck
Sheila Mercier - Annie Sugden
Frazer Hines - Joe Sugden
Ronald Magill - Amos Brearly
Arthur Pentelow - Henry Wilks
Angela Cheyne - Christine Sugden
George Malpas - Barney
Writer - Jeremy Burnham
Director - Roger Cheveley
Producer - Robert D Cardona
Executive Producer - David Cunliffe
Final appearance of Arncliffe in the village scenes for the show filmed on location. For a while after the February 1976 Woolpack move the odd scene filmed on location in Arncliffe was shoehorned into the programme. The scenes were probably the last ever scenes filmed in Arncliffe before the move of location scenes to Esholt. And they were edited into the show during Jack Sugdens return and Christine Sugden's return and immediate episodes afterwards.
Ad blocker interference detected!
Wikia is a free-to-use site that makes money from advertising. We have a modified experience for viewers using ad blockers

Wikia is not accessible if you've made further modifications. Remove the custom ad blocker rule(s) and the page will load as expected.