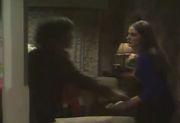 Annie tells Matt & Joe that she has seen a light on in the millhouse. 
Jack
tells 
Trash
that he can stay on at the millhouse if he runs errands for him. 
Sharon Crossthwaite
sneaks her building society book out of the house. 
Jim Latimer
tells 
Amos Brearly
that he has been laid off work. 
Henry Wilks
needs to know Jack's whereabouts so he can get him to sign some papers to change the ownership of
Emmerdale Farm
. Henry stays for dinner at the farmhouse.
Amos takes a message from 
Wallace
for Jack. There is a cosy scene with Henry having tea & chat with 
Annie Sugden
&
Beryl Crossthwaite
. Trash goes to 
The Woolpack
to buy drink for Jack. Amos thinks that he must have stolen the money. Jack asks Trash to have a wash. Trash is offended by this but Jack says "In my house you wash". Sharon has drawn out her life savings from the building society and she is on her own in the house counting out the money when Jim calls round. He forces his way into the house and the scene ends where he sees all the money lying on the table. He then grabs her by the hand.
Sheila Mercier - Annie Sugden
Frazer Hines - Joe Sugden
Andrew Burt - Jack Sugden
Frederick Pyne - Matt Skilbeck
Leonard Maguire - Trash
Louise Jameson - Sharon Crossthwaite
Joan Scott - Beryl Crossthwaite
Ronald Magill - Amos Brearly
Myles Reithermann - Jim Latimer
Christopher Wray - PC Ball
Patrick Holt - George Verney

Writer - Kevin Laffan
Director - Gordon Flemyng
Producer - Peter Holmans