Two faces from the past come to Beckindale, one is Joe's estranged wife Christine and the other is the prodigal son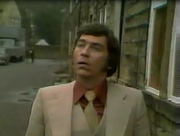 Jack Sugden
, who is stunned to find that the Woolpack has moved premises. He meets his mother in Main Street and Chrsitine visits Hawthorn Cottage and lets herself in when she sees the front door is unlocked.
FRAZER HINES - Joe Sugden
FREDERICK PYNE - Matt Skilbeck
SHEILA MERCIER - Annie Sugden
TOKE TOWNLEY - Sam Pearson
RONALD MAGILL - Amos Brearly
ARTHUR PENTELOW - Henry Wilks
LESLEY MANVILLE - Rosemary Kendall
ANDREW BURT - Jack Sugden
ANGELA CHEYNE - Christine Sugden
GERRY COWAN - Driver
Writer - DANIEL ROBERTS
Director - DAVID REYNOLDS
Producer - ROBERT D CARDONA
Executive Producer - DAVID CUNLIFFE
First appearance of Jack Sugden since Episode 104 (16th October 1973).
First appearance of Christine Sharp since Episode 210 (12th November 1974).
Ad blocker interference detected!
Wikia is a free-to-use site that makes money from advertising. We have a modified experience for viewers using ad blockers

Wikia is not accessible if you've made further modifications. Remove the custom ad blocker rule(s) and the page will load as expected.