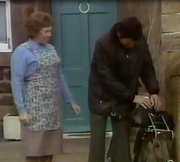 Annie takes Heather Bannerman some breakfast. She calls Dr Evans who later visits. Heather phones her husband Steven in Harrogate. After checking Heather over Dr Evans leaves on his bike as Annie sees him off. Rosemary takes Heather some dinner and they have a chat. Heather is interested in Rosemary's past.
SHEILA MERCIER - Annie Sugden
FREDERICK PYNE - Matt Skillingbeck
FRAZER HINES - Joe Sugden
LESLEY MANVILLE - Rosemary Kendall
WANDA VENTHAM - Heather Bannerman
TOKE TOWNLEY - Sam Pearson
PETER MAYCOCK- Dr Evans
Writer - WILLIAM CORLETT
Director - PADDY RUSSELL
Prdocuer - ROBERT D CARDONA
Ad blocker interference detected!
Wikia is a free-to-use site that makes money from advertising. We have a modified experience for viewers using ad blockers

Wikia is not accessible if you've made further modifications. Remove the custom ad blocker rule(s) and the page will load as expected.