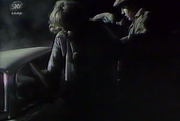 It is a quiet night at Emmerdale Farm but not for long. Annie, Rosemary, Joe and Matt are having dinner when they are alerted by a large crashing sound. They all rush out including Rosemary to find a car has crashed into the wall near the entrance to the farm. A woman is driving the car and Annie takes her into Emmerdale where she is in shock. They take her up to the attic conversion to bed where she can gets some sleep. Annie suggests that the doctor is called.
Main cast
Guest cast
Writer - William Corlett
Director - Paddy Russell
Producer - Robert D Cardona
Ad blocker interference detected!
Wikia is a free-to-use site that makes money from advertising. We have a modified experience for viewers using ad blockers

Wikia is not accessible if you've made further modifications. Remove the custom ad blocker rule(s) and the page will load as expected.