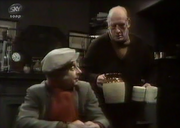 At Ted Dean's house Sam and Ted chat about old times where Ted says he does not like bobbies. PC Croft is still throwing his weight around in the village. At the police house he says Fred may have done a small crime but has still broken the law. There is a gala at the village hall that evening.
TOKE TOWNLEY - Sam Pearson
SHEILA MERCIER - Annie Sugden
LESLEY MANVILLE - Rosemary Kendall
FRAZER HINES - Joe Sugden
FREDERICK PYNE - Matt Skilbeck
JOHN BARRETT - Ted Dean
WILLIAM SIMONS - Will Croft
GWYNETH POWELL - Julie Croft
ARTHUR PENTELOW - Henry Wilks
DOREEN KAY - Mrs Swannick
Writer - MALCOLM LYNCH
Director - DAVID REYNOLDS
Producer - ROBERT D CARDONA
Executive Producer - DAVID CUNLIFFE
Ad blocker interference detected!
Wikia is a free-to-use site that makes money from advertising. We have a modified experience for viewers using ad blockers

Wikia is not accessible if you've made further modifications. Remove the custom ad blocker rule(s) and the page will load as expected.