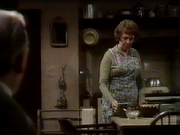 Mr William Openshaw visits Emmerdale Farm and wants to know about Mat Skilbeck's relationship with his daughter Beth. Mel says that planning permission has been granted for the new premises and the license can be transferred. Amos is still unsure about moving to a new premises. William Openshaw says he approves of Matt as he seem an honest man and would set Matt up with a farm if he did marry Beth so he could have a home when he would not be in the way so much. Mr Wilks says that he has paid the deposit on the new premises and the contract can be signed tomorrow. Mel says there is a firm in Bradford who can convert the former chandlers into the new Woolpack in 7 days, working round the clock.
FRAZER HINES - Joe Sugden
SHEILA MERCIER - Annie Sugden
TOKE TOWNLEY - Sam Pearson
FREDERICK PYNE - Matt Skilbeck
ARTHUR PENTELOW - Henry Wilks
RONALD MAGILL - Amos Brearly
LESLEY MANVILLE - Rosemary Kendall
POLLY HEMINGWAY - Kathy Davis
GEORGE FENTON - Martin Gimble
RICHARD BORTHWICK - Mel Openshaw
JOHN WOODNUTT - Mr Openshaw
Writer - KEVIN LAFFAN
Director - ROGER CHEVELEY
Producer - ROBERT D CARDONA
Executive Producer - DAVID CUNLIFFE
Ad blocker interference detected!
Wikia is a free-to-use site that makes money from advertising. We have a modified experience for viewers using ad blockers

Wikia is not accessible if you've made further modifications. Remove the custom ad blocker rule(s) and the page will load as expected.