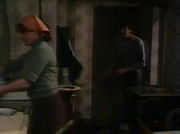 The Woolpack relocation seems certain but plans to achieve this are uncertain. At Holly Farm Martin is ready to see Rosemary. Amos asks Mel if he believes in ghosts. Mel does not think the corn chandlers is haunted. Amos berates Mr Wilks for letting Walter in a minute early before opening time, saying rules are rules. Mr Wilks says he has had a look at the old corn chandlers and says it is a possibility. He says to Amos that a bolt on the front door is loose. Amos says he has been in this pub for 18 years. Mr Wilks says they will have a party on the last night at the current pub before moving the the new one.
Main cast
Guest cast
Writer - Kevin Laffan
Director - Nick Gray
Producer - Robert D Cardona
Executive Producer - David Cunliffe
Ad blocker interference detected!
Wikia is a free-to-use site that makes money from advertising. We have a modified experience for viewers using ad blockers

Wikia is not accessible if you've made further modifications. Remove the custom ad blocker rule(s) and the page will load as expected.