Matt Skilbeck
 breaks down when he is walking around 
Emmerdale Farm
with
Beth Openshaw
.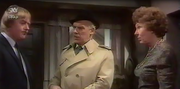 Henry Wilks
visits Emmerdale to comfort 
Annie Sugden
and Matt again. 
Joe Sugden
says to 
Rosemary Kendall
how he is annoyed that no one came up to 
Hawthorn Cottage
to tell him about the accident and that
Kathy Gimbel
had told him. Henry is alarmed to be told that a house behind 
The Woolpack
once fell down due to subsidence. Henry tells 
Amos Brearly
yet Amos is still adamant that the Woolpack will be safe.
SHEILA MERCIER - Annie Sugden
FRAZER HINES - Joe Sugden
FREDERICK PYNE - Matt Skilbeck
TOKE TOWNLEY - Sam Pearson
ARTHUR PENTELOW - Henry Wilks
RONALD MAGILL - Amos Brearly
LESLEY MANVILLE - Rosemary Kendall
POLLY HEMINGWAY - Kathy Davis
GEORGE FENTON - Martin Gimbel
MAUREEN MORRIS - Beth Openshaw
RICHARD BORTHWICK - Mel Openshaw
JOHN MCDERMOTT - Policeman
Writer - KEVIN LAFFAN
Director - PADDY RUSSELL
Producer - ROBERT D CARDONA
Executive Producer - DAVID CUNLIFFE
Ad blocker interference detected!
Wikia is a free-to-use site that makes money from advertising. We have a modified experience for viewers using ad blockers

Wikia is not accessible if you've made further modifications. Remove the custom ad blocker rule(s) and the page will load as expected.