Amos Brearly
 is serving at the pub and talking to a customer at
The Woolpack
when 
Henry Wilks
recieves and urget phonecall and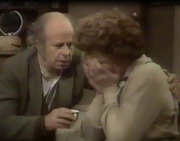 says he has to get to 
Emmerdale Farm
. At the farm, 
Annie Sugden
and 
Sam Pearson
are in shock at
Matt Skilbeck
's twin children and his aunty
Beattie Dowton
have been killed at the smash at the level crossing. Annie is comforted by Sam. Matt is sat with 
Beth Openshaw
in a car on a country road when a policeman comes up asking if he is Matt Skilbeck after he recognises the car. Matt spends the night walking on the moors, lost and lonely after finding out. He returns to Emmerdale Farm and Annie offers him a cup of tea. The family are in shock. Mr Wilks says he has expressed an interest in the old corn chandlers round the corner from the Woolpack. He is interested in that as the new premises for the new pub as a precautionary measure if they do have to move.
Main cast
Guest cast
Writer - Kevin Laffan
Director - Paddy Russell
Producer - Robert D Cardona
Executive Producer - David Cunliffe
Ad blocker interference detected!
Wikia is a free-to-use site that makes money from advertising. We have a modified experience for viewers using ad blockers

Wikia is not accessible if you've made further modifications. Remove the custom ad blocker rule(s) and the page will load as expected.