Amos Brearly
 is still fussing over the huge crack in the fireplace at
The Woolpack
. Later that night, 
Walter
comes into the pub and says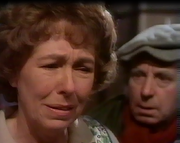 there has been a train smash up at the junction. At
Emmerdale Farm
, 
Annie Sugden
recieves a phonecall from Ben Dowton with tragic news which leaves Annie in total shock. The twins,
Samuel and Sally Skilbeck
and their Aunt
Beattie Dowton
have been killed when a train crashed into their stalled car on a level crossing.
Main cast
Guest cast
Writer - Kevin Laffan
Director - Paddy Russell
Producer - Robert D Cardona
Executive Producer - David Cunliffe