The situation at 
The Woolpack
seemed serious. 
Henry Wilks
rings a surveryor and is told that there is a suspected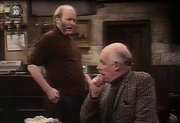 earth fault under the pub. Henry Wilks then goes to 
Emmerdale Farm
where he was told by
Sam Pearson
that a house that once stood behind the pub had a crack in it and one night fell down. This gave Wilks cause for concern. 
Amos
said if Henry hadn't had mentioned surveying he could have had 
Wilf Padgett
come back and fill the crack in. That night at the pub after closing Mr Wilks suggests moving premises and having the license transferred. Amos is not pleased at this suggestion.
SHEILA MERCIER - Annie Sugden
LESLEY MANVILLE - Rosemary Kendall
TOKE TOWNLEY - Sam Pearson
FRAZER HINES - Joe Sugden
FREDERICK PYNE - Matt Skilbeck
RONALD MAGILL - Amos Brearly
ARTHUR PENTELOW - Henry Wilks
POLLY HEMINGWAY - Kathy Davis
RICHARD BORTHWICK - Mel Openshaw
MAUREEN MORRIS - Beth Openshaw
Writer - KEVIN LAFFAN
Director - PADDY RUSSELL
Producer - ROBERT D CARDONA
Executive Producer - DAVID CUNLIFFE
Ad blocker interference detected!
Wikia is a free-to-use site that makes money from advertising. We have a modified experience for viewers using ad blockers

Wikia is not accessible if you've made further modifications. Remove the custom ad blocker rule(s) and the page will load as expected.