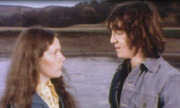 10 days have passed since 
Emmerdale Farm
Limited was formed. 
Joe Sugden
is reading a newspaper.
Jack Sugden
has supposedly joined 
Marian Wilks
on her cruise. Jamesons farm now belongs to the partnership of the Sugdens & Wilks. 
Sam Pearson
parades around in his new suit - acquired from part of the money he received for selling his share of the farm to
Henry Wilks
. Preparations are underway for the sheepdog trials. 
Amos Brearly
is running the beer tent with the help of Jerry, a local man.
Trash
, a well known tramp is wandering around the showground. 3 local youths try to chat up 3 girls, one of them is
Sharon Crossthwaite
. Wilks discusses the possibility of Marian joining the local hunt set with the local squire,
George Verney
.
Jim Latimer
, a local youth follows one of the girls as she makes her way home along the river. He catches up with her (Sharon Crossthwaite) and makes her feel very uneasy. He says he has her all to himself now.

Writer - Kevin Laffan
Director - Robert D Cardona
Producer - Peter Holmans
First appearance of George Verney.