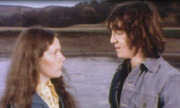 10 days have passed since 
Emmerdale Farm
Limited was formed. 
Jack Sugden
has supposedly joined 
Marian Wilks
on her cruise. Jamesons farm now belongs to the partnership of the Sugdens & Wilks. 
Sam Pearson
parades around in his new suit - acquired from part of the money he received for selling his share of the farm to
Henry Wilks
. Preparations are underway for the sheepdog trials. 
Amos Brearly
is running the beer tent with the help of Jerry, a local man.
Trash
, a well known tramp is wandering around the showground. 3 local youths try to chat up 3 girls, one of them is
Sharon Crossthwaite
. Wilks discusses the possibility of Marian joining the local hunt set with the local squire,
George Verney
.
Jim Latimer
, a local youth follows one of the girls as she makes her way home along the river. He catches up with her (Sharon Crossthwaite) and makes her feel very uneasy.

Writer - Kevin Laffan
Director - Robert D Cardona
Producer - Peter Holmans
First appearance of George Verney.
Ad blocker interference detected!
Wikia is a free-to-use site that makes money from advertising. We have a modified experience for viewers using ad blockers

Wikia is not accessible if you've made further modifications. Remove the custom ad blocker rule(s) and the page will load as expected.