Madge Semple
 opens her heart out to 
Annie Sugden
at
Emmerdale Farm
. She says that she has been given a new flat back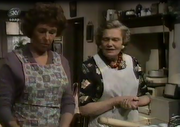 in London and decides to leave Beckindale again in the morning.Beckindale awaits
Sam Pearson
's decision - the future of their traditional Harvest Supper hangs in the balance. Mage Semple and 
Hilda Semple
meet again at the Supper and Madge sings on stage in her final night in Beckindale before her return to London.
FRAZER HINES - Joe Sugden
FREDERICK PYNE - Matt Skilbeck
TOKE TOWNLEY - Sam Pearson
SHEILA MERCIER - Annie Sugden
ARTHUR PENTELOW - Henry Wilks
RONALD MAGILL - Amos Brearly
LESLEY MANVILLE - Rosemary Kendall
JOYCE HERON - Madge Sample
LORRAINE PETERS - Mrs Dawkins
WILLIAM ELLIS - Bob Matthews
LIZ SMITH - Hilda Semple
WILLIAM MOORE - Jackson
BERT PALMER - Tom
MICHAEL ATHA - Felix
Writer - DAVID HOPKINS
Director - ROGER CHEVELEY
Producer - ROBERT D CARDONA
Executive Producer - DAVID CUNLIFFE
Ad blocker interference detected!
Wikia is a free-to-use site that makes money from advertising. We have a modified experience for viewers using ad blockers

Wikia is not accessible if you've made further modifications. Remove the custom ad blocker rule(s) and the page will load as expected.