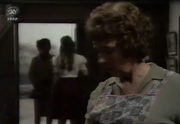 A lady turns up in Beckindale and introduces herself as
Madge Semple
. She says she used to live in the village. She calls round on 
Emmerdale Farm
and introducers herself saying "Madge Semple, Madge Plunkett that was".
Sam Pearson
is shocked.
FRAZER HINES - Joe Sugden
FREDERICK PYNE - Matt Skilbeck
TOKE TOWNLEY Sam Pearson
SHEILA MERCIER - Annie Sugden
ARTHUR PENTELOW - Henry Wilks
LESLEY MANVILLE - Rosemary Kendall
WILLIAM ELLIS - Bob Matthews
JOYCE HERON - Madge Plunkett
LORRAINE PETERS - Mrs Dawkins
RONALD MAGILL - Amos Brearly
TED CARROLL - Kenny
Writer - DAVID HOPKINS
Producer - ROBERT D CARDONA
Executive Producer - DAVID CUNLIFFE
Ad blocker interference detected!
Wikia is a free-to-use site that makes money from advertising. We have a modified experience for viewers using ad blockers

Wikia is not accessible if you've made further modifications. Remove the custom ad blocker rule(s) and the page will load as expected.