Marian
 is busy packing for her Greek Islands Cruise. 
Jack
talks to 
Frank Blakey
about marriage. 
Amos
smartens himself up.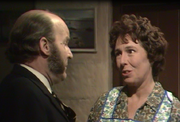 Frank asks Jack to be his best man & he agree, pride stops Jack altering the mill as he will have to ask
Henry
's permission because he is the owner of the freehold. Jack produces a document making the farm over to
Annie
,
Joe
, 
Peggy
& 
Sam
in equal parts and he also tells 
Harry Jameson
to sell to Wilks. Annie & Peggy marvel at the new washing machine. Amos visits Annie & tells her "I'd like you to walk out with me wi' a view to marriage". Annie is amused, but refuses his marriage proposal. Marian finds out that her father has bought the Sugden freehold & therefore stopped Jack living in the old millhouse ; she is furious & tells him "you're not the same man when it comes to money & business, you're hard & you don't care how you win" she gives him an ultimatum - put things right with Jack Sugden or she will not be coming back from her cruise. Wilks visits the Sugdens to tell Jack that he can do what he likes with the millhouse ; Jack rushes off to be with Marian. Grandad offers to sell his share of the farm to Henry Wilks. Henry buys it for 500 pounds & proposes that the two families form & partnership & buy Jamesons farm.
Sheila Mercier - Annie Sugden
Frazer Hines - Joe Sugden
Andrew Burt - Jack Sugden
Toke Townley - Sam Pearson
Jo Kendall - Peggy Skilbeck
Frederick Pyne - Matt Skilbeck
Arthur Pentelow - Henry Wilks
Gail Harrison - Marian Wilks
Ronald Magill - Amos Brearly
John Glyn Jones - Harry Jameson

Writer - Kevin Laffan
Director - Tristan De Vere Cole
Producer - Peter Holmans
Ad blocker interference detected!
Wikia is a free-to-use site that makes money from advertising. We have a modified experience for viewers using ad blockers

Wikia is not accessible if you've made further modifications. Remove the custom ad blocker rule(s) and the page will load as expected.