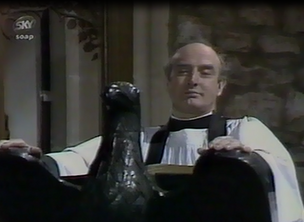 Annie has a serious talk to Martin Gimbel and has doubts about her election as Churchwarden. Rev Ruskin visits Jim Gimbel and says a few words about his attitude towards his family. Jim says how he does not like being told how to run a farm by his own son when Mr Ruskin says you should listen to young people as they have a say in the world they are going to live in. Rev Ruskin then holds his farewell sermon at the church and Annie makes the vows as she is elected churchwarden.
FRAZER HINES - Joe Sugden
POLLY HEMINGWAY - Kathy Davis
TOKE TOWNLEY - Sam Pearson
SHEILA MERCIER - Annie Sugden
FREDERICK PYNE - Matt Skilingbeck
RONALD MAGILL - Amos Brearly
ARTHUR PENTELOW - Henry Wilks
DAPHNE GREEN - Liz Ruskin
GEORGE LITTLE - Rev Edward Ruskin

LESLEY MANVILLE - Rosemary Kendall
GEORGE FENTON - Martin Gimbel
JOHN ATKINSON - Jim Gimbel
MARY HENRY - Freda Gimbel
Writer - KEVIN LAFFAN
Director - ROGER CHEVELEY
Producer - ROBERT D CARDONA
Final appearance of Liz Ruskin.
Last appearance of Edward Ruskin until Episode 803 (17th May 1983).
Ad blocker interference detected!
Wikia is a free-to-use site that makes money from advertising. We have a modified experience for viewers using ad blockers

Wikia is not accessible if you've made further modifications. Remove the custom ad blocker rule(s) and the page will load as expected.