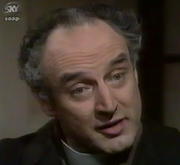 Joe Sugden finds his helping hand unwelcome and Rosemary complicates matters. Rev Ruskin visits Annie. Rosemary and Martin go for a drink together at a coffe house in Hotten. Once they come back to the village they go for another drink in the Woolpack. Jim Gimbel catches up with his son Martin in the Woolpack that night and says if he does not come home now he will not come home at all. He gives him some money then storms out.
FRAZER HINES - Joe Sugden
FREDERICK PYNE - Matt Skilbeck
JOHN ATKINSON - Jim Gimbel
SHEILA MERCIER - Annie Sugden
LESLEY MANVILLE - Rosemary Kendall
ARTHUR PENTELOW - Henry Wilks
RONALD MAGILL - Amos Brearly
DAPHNE GREEN - Liz Ruskin
GEORGE LITTLE - Rev Edward Ruskin
POLLY HEMINGWAY - Kathy Gimbel
GEORGE FENTON - Martin Gimbel
MARY HENRY - Freda Gimbel
Writer - KEVIN LAFFAN
Director - DAVID GREEN
Producer - ROBERT D CARDONA
Ad blocker interference detected!
Wikia is a free-to-use site that makes money from advertising. We have a modified experience for viewers using ad blockers

Wikia is not accessible if you've made further modifications. Remove the custom ad blocker rule(s) and the page will load as expected.