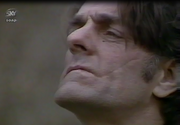 Annie Sugden finds herself becoming involved in the quarrels of a neighbouring farm, aka Holly Farm, run by Jim Gimbel. Kathy Gimbel invites Joe to Holly Farm and as they walk off they are under the watchful eye of Jim Gimbel.
FRAZER HINES - Joe Sugden
FREDERICK PYNE - Matt Skilbeck
JOHN ATKINSON - Jim Gimbel
SHEILA MERCIER - Annie Sugden
LESLEY MANVILLE - Rosemary Kendall
ARTHUR PENTELOW - Henry Wilks
RONALD MAGILL - Amos Brearly
DAPHNE GREEN - Liz Ruskin
GEORGE LITTLE - Rev Edward Ruskin
POLLY HEMINGWAY - Kathy Gimbel
GEORGE FENTON - Martin Gimbel
MARY HENRY - Freda Gimbel
Writer - KEVIN LAFFAN
Director - DAVID GREEN
Producer - ROBERT D CARDONA
First appearance of Martin Gimbel.
Ad blocker interference detected!
Wikia is a free-to-use site that makes money from advertising. We have a modified experience for viewers using ad blockers

Wikia is not accessible if you've made further modifications. Remove the custom ad blocker rule(s) and the page will load as expected.