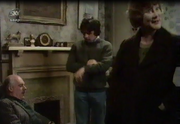 Henry Wilks
twists his ankle. He is unable to drive so gets a lift from
Kathy Gimbel
who is passing by on her bike. She says she will collect her bike later.
Mrs Dawkins
takes no nonsense from
Amos Brearly
when Henry is absent as she reports his telephone.
Ad blocker interference detected!
Wikia is a free-to-use site that makes money from advertising. We have a modified experience for viewers using ad blockers

Wikia is not accessible if you've made further modifications. Remove the custom ad blocker rule(s) and the page will load as expected.