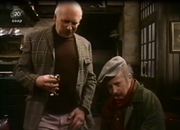 Sam Pearson tells a ghost story and Tom Raistrick hopefully invites Annie Sugden out to dinner.
FRAZER HINES - Joe Sugden
FREDERICK PYNE - Matt Skilbeck
TOKE TOWNLEY - Sam Pearson
SHEILA MERCIER - Annie Sugden
ARTHUR PENTELOW - Henry Wilks
RONALD MAGILL - Amos Brearly
RONALD MAGILL - James Brearly
TOM BROWNE - James Bonfils
LEONARD TROLLEY - Tom Raistrick
LORRAINE PETERS - Mrs Dawkins
LESLEY MANVILLE - Rosemary Kendall
Guest cast
Writer - ANTHONY COUCH
Director - MICHAEL SNOW
Producer - ROBERT D CARDONA
First appearance of Ernie Shuttleworth although he was played by John Comer at first. Peter Schofield first played him from January 1984.