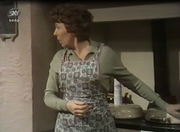 Amos Brearly
becomes apprehensive that the 'Woolpack' will have the reputation of being a disorderly house. As they plan to make it a hotel as well as a pub, Amos worries about married and non married couples staying there, and how some may say they are married but are not.
Sam Pearson
is more than convinced that they are going to have trouble with
Rosemary Kendall
. He is also told that a younger churchwarden is being sought.
FRAZER HINES - Joe Sugden
FREDERICK PYNE - Matt Skilbeck
TOKE TOWNLEY - Sam Pearson
SHEILA MERCIER - Annie Sugden
ARTHUR PENTELOW - Henry Wilks
RONALD MAGILL - Amos Brearly
RONALD MAGILL - James Brearly
TOM BROWNE - James Bonfils
LEONARD TROLLEY - Tom Raistrick
LORRAINE PETERS - Mrs Dawkins
LESLEY MANVILLE - Rosemary Kendall
Writer - ANTHONY COUCH
Director - MICHAEL SNOW
Producer - ROBERT D CARDONA