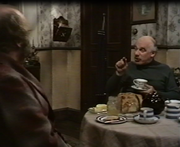 Sam has decided 
James Bonfils
must leave the farm and Annie quarrels with Wilks about Joe.
Amos Brearly
and Henry Wilks are still at loggerheads. Henry wants Amos to call him "Henry" rather than "Mr Wilks". Wilks starts to call Amos "Mr Brearly". Sam Pearson has lined up an empty cottage for James Bonfils.
Joe Sugden
orders some fencing and Wilks says it is OK to do so without telling anyone else.
RONALD MAGILL - Amos Brearly
ARTHUR PENTELOW - Henry Wilks
TOM BROWNE - James Bonfils
TOKE TOWNLEY - Sam Pearson
FRAZER HINES - Joe Sugden
FREDERICK PYNE - Matt Skilbeck
LESLEY MANVILLE - Rosemary Kendall
SHEILA MERCIER - Annie Sugden
LEONARD TROLLEY - Tom Raistrick
LORRAINE PETERS - Mrs Dawkins
Writer - KEVIN LAFFAN
Director - MICHAEL SNOW
Producer - ROBERT D CARDONA