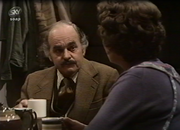 Henry Wilks
is back from Bradford and apologises for being away a long time. 
Matt Skilbeck
takes 
Rosemary Kendall
to 
The Woolpack
and Amos invites her into the back to show her what he is cooking.
Annie Sugden
learns that Joe has had a letter from Christine, and 
Sam Pearson
is concerned when he finds out Rosemary was never baptised, but he is more worried because he believes Rosemary has fallen in love with
James Bonfils
when he invites her to a concert in Leeds. Tom Raistrick calls in on Annie Sugden at Emmerdale.
RONALD MAGILL - Amos Brearly
ARTHUR PENTELOW - Henry Wilks
TOM BROWNE - James Bonfils
TOKE TOWNLEY - Sam Pearson
FRAZER HINES - Joe Sugden
FREDERICK PYNE - Matt Skilbeck
LESLEY MANVILLE - Rosemary Kendall
SHEILA MERCIER - Annie Sugden
LEONARD TROLLEY -Tom Raistrick
LORRAINE PETERS - Mrs Dawkins
Writer - KEVIN LAFFAN
Director - MICHAEL SNOW
Producer - ROBERT D CARDONA