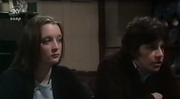 Joe Sugden
and
Matt Skilbeck
search frantically for
Rosemary Kendall
. They find her in a field.
Annie Sugden
tells her that it is easy to get lost in the dales. She asks her to inform them if she is going for a walk, just until she gets more familiar with the village.
Amos Brearly
and
Henry Wilks
argue over Henry's comings and goings.
Sam Pearson
worries that there will be no replacement church warden. Joe continues to seek
Tom Raistrick
's advice on his failed marriage to
Christine Sugden
. Joe agrees to send a formal letter to say his marriage is not functioning.