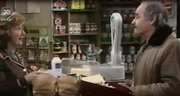 Henry Wilks
is in dire straits when he talks to the two men who have turned up at
The Woolpack
. At 
Emmerdale Farm
, 
Sam Pearson
wants to go and see how 
Wally Lumm
is doing. 
Marian Wilks
asks if the situation with her dad is serious and Henry says it might be. 
Amos Brearly
is also suspicious of the two men who want to talk to Henry.
FREDERICK PYNE - Matt Skilbeck
ARTHUR PENTELOW - Henry Wilks
FRAZER HINES - Joe Sugden
RONALD MAGILL - Amos Brearly
GAIL HARRISON - Marion Wilks
SHEILA MERCIER - Annie Sugden
TOKE TOWNLEY - Sam Pearson
BARBARA ASHCROFT - Norah Norris
JOHN GATRELL - George Blake
TOMMY HARPER - Frank Thompson
LEONARD TROLLEY - Tom Raistrick
Writer - ROBERT STUART
Director - DAVID GREEN
Producer - ROBERT D CARDONA
Ad blocker interference detected!
Wikia is a free-to-use site that makes money from advertising. We have a modified experience for viewers using ad blockers

Wikia is not accessible if you've made further modifications. Remove the custom ad blocker rule(s) and the page will load as expected.