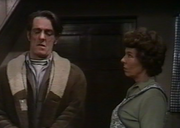 Jim Gimbel calls round Emmerdale Farm again and apologises for his behaviour last night saying he had been off colour recently. Henry Wilks is getting ready to depart for Bradford. Joe and Kathy's friendship is causing some anxiety for Annie.
FRAZER HINES - Joe Sugden
FREDERICK PYNE - Matt Skilbeck
TOKE TOWNLEY - Sam Pearson
SHEILA MERCIER - Annie Sugden
ARTHUR PENTELOW - Henry Wilks
RONALD MAGILL - Amos Brearly
BARBARA ASHCROFT - Mrs Norris
POLLY HEMINGWAY - Kathy Davis
TOM BROWNE - James Bonfils
JOHN ATKINSON - Jim Gimbel
Writer - NEVILLE SIGGS
Director - DAVID GREEN
Producer - ROBERT D CARDONA
Ad blocker interference detected!
Wikia is a free-to-use site that makes money from advertising. We have a modified experience for viewers using ad blockers

Wikia is not accessible if you've made further modifications. Remove the custom ad blocker rule(s) and the page will load as expected.