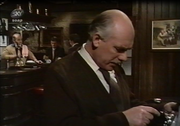 Annie walks by the old mill house and James Bonfils is teaching children in the playground. James later drops round Emmerdale Farm. Joe Sugden and Kathy Gimbel appear to be getting frendlier. Jim Gimbel is looking for his daughter Kathy and calls in on the Woolpack. When he sees she is not there he leaves.
Main cast
Guest cast
Writer - Neville Siggs
Director - Michael Snow
Producer - Robert D Cardona
Ad blocker interference detected!
Wikia is a free-to-use site that makes money from advertising. We have a modified experience for viewers using ad blockers

Wikia is not accessible if you've made further modifications. Remove the custom ad blocker rule(s) and the page will load as expected.