Interesting repercussions following on from Se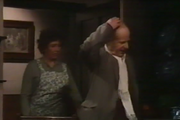 edcut Night - and
Amos Brearly
turns the tables on
Norah Norris
.
Jim Gimbel
is angry at his daughter
Kathy Gimbel
for coming home last night late. He says she will do what he says under his roof.
Main cast
Guest cast
Writer - Anthony Couch
Director - David Green
Producer - Robert D Cardona
First appearance of Jim Gimbel.
Ad blocker interference detected!
Wikia is a free-to-use site that makes money from advertising. We have a modified experience for viewers using ad blockers

Wikia is not accessible if you've made further modifications. Remove the custom ad blocker rule(s) and the page will load as expected.