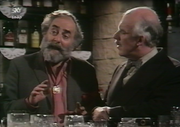 It is the day of the cricket match between Beckindale and Robblesfield. Joe has problems of his own to deal with. It starts raining and Mr Wilks and PB chat while he paints the mural. Later on Robert Sharp tells Joe that Christine is staying with him.
FRAZER HINES - Joe Sugden
BARBARA ASHCROFT - Norah Norris
JAMES OTTAWAY - Fred Anstey
FREDERICK PYNE - Matt Skilbeck
ARTHUR PENTELOW - Henry Wilks
TOKE TOWNLEY - Sam Pearson
BERNARD KAY - Mr Sharp
ARTRO MORRIS - P.B
DAPHNE GREEN - Liz Ruskin
RONALD MAGILL - Amos Brearly
SHEILA MERCIER - Annie Sugden
JANE HUTCHESON - Lill
KIM PRINCE - Bet
TED CARROLL - Kenny
Writer - ANTHONY COUCH
Director - MICHAEL SNOW
Producer - ROBERT D CARDONA
Ad blocker interference detected!
Wikia is a free-to-use site that makes money from advertising. We have a modified experience for viewers using ad blockers

Wikia is not accessible if you've made further modifications. Remove the custom ad blocker rule(s) and the page will load as expected.