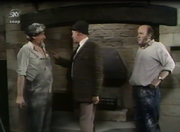 Amos Brearly
helps 
Wilf Padgett
unveil the new fireplace at
The Woolpack
, of which 
Henry Wilks
is impressed by the finished piece. A van brings some surprises to
Hawthorn Cottage
, but as 
Joe Sugden
and 
Christine Sugden
are away on honeymoon it is left to 
Annie Sugden
to sort out matters. For the first time in years, Amos permits after hours drinking at The Woolpack and a policeman walks in. When he leaves Amos says "First time I allowed after hours drinking on these licensed premises, and he has to walk in".
RONALD MAGILL - Amos Brearly
GEORGE WARING - Padgett
ARTHUR PENTELOW - Henry Wilks
BARBARA ASHCROFT - Mrs Norris
CAROLYN MOODY - Alison Gibbons
SHEILA MERCIER - Annie Sugden
TOKE TOWNLEY - Sam Pearson
FREDERICK PYNE - Matt Skilbeck
COLIN MCCORMACK - Stan Marsden

Writer - ANTHONY COUCH
Director - MICHAEL SNOW
Producer - ROBERT D CARDONA
Ad blocker interference detected!
Wikia is a free-to-use site that makes money from advertising. We have a modified experience for viewers using ad blockers

Wikia is not accessible if you've made further modifications. Remove the custom ad blocker rule(s) and the page will load as expected.