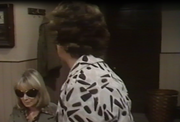 Wilf Padgett comes into the Woolpack and introduces himself as the man who will redecorate the Woolpack. Celia calls round to Emmerdale Farm where she is told by Annie it is best to go home as 
Dryden Hogben
is not around the village anymore, he has moved on. Celia accepts this and that she will probably never see Dryden again.
Main cast
Guest cast
Writer
Director
Producer
Ad blocker interference detected!
Wikia is a free-to-use site that makes money from advertising. We have a modified experience for viewers using ad blockers

Wikia is not accessible if you've made further modifications. Remove the custom ad blocker rule(s) and the page will load as expected.