Dryden Hogben
's tent is still at the top field at Emmerdale Farm. 
Celia
turns up in the shop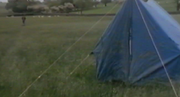 asking if 
Alison
has seen Dry and Alison says Dryden handed the keys of the forge back to
Dolly Harker
. She then calls at Emmerdale Farm where her and 
Joe Sugden
look around around his tent in the field for Dry but no sign of him. They then head off up towards Emmerdale. Joe then asks 
Annie
if she has seen him. Annie says that she has not seen Dry either. It becomes apparent that he las left Beckindale after Celia turned up at Emmerdale the previous night.
SHEILA MERCIER - Annie Sugden
FRAZER HINES - Joe Sugden
FREDERICK PYNE - Matt Skilbeck
ARTHUR PENTELOW - Henry Wilks
RONALD MAGILL - Amos Brearly
CAROLYN MOODY - Alison Gibbons
ANGELA CHEYNE - Christine Sharp
GEORGE WARING - Padgett
TOKE TOWNLEY - Sam Pearson
GEORGE LITTLE - Ruskin
DAPHNE GREEN - Liz Ruskin
PENELOPE HORNER - Celia
LORRIANE PETERS - Mrs Dawkins
Writer - GLORIA TORS
Director - DAVID REYNOLDS
Producer - ROBERT D CARDONA
Ad blocker interference detected!
Wikia is a free-to-use site that makes money from advertising. We have a modified experience for viewers using ad blockers

Wikia is not accessible if you've made further modifications. Remove the custom ad blocker rule(s) and the page will load as expected.