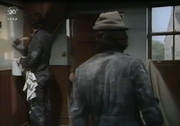 Briddy Middleton
turns up at
The Woolpack
. 
Dorrie Lumm
visits 
Reverand Edward Ruskin
at the vicarage and has a few words to say about her husband
Wally Lumm
. Meanwhile
Dryden Hogben
starts painting the walls of the 
Emmerdale Farm
kitchen.
SHEILA MERCIER - Annie
FRAZER HINES - Joe
FREDERICK PYNE - Matt
ARTHUR PENTELOW - Mr Wilks
RONALD MAGILL - Amos
ROY BOYD - Dryden Hogben
ZIBBA MAYS - Diana Prescott
GEORGE LITTLE - Rev Ruskin
DAPHNE GREEN - Liz Ruskin
SHEELAH WILCOCKS - Dorrie Lumm
FREDERICK HALL - PC Fred Hallam
JENNY HANLEY - Briddy Middleton
GEOFFREY HOOPER - Walter
Writer - GLORIA TORS
Producer - ROBERT CARDONA
Director - DAVID REYNOLDS
Ad blocker interference detected!
Wikia is a free-to-use site that makes money from advertising. We have a modified experience for viewers using ad blockers

Wikia is not accessible if you've made further modifications. Remove the custom ad blocker rule(s) and the page will load as expected.