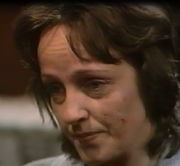 Letty Brewer
is upset and calls round to Rev Ruskin saying Dorry Lumm has banned her from the Women's Union. Rev Ruskin says that she cannot do that and that the ban on divorced women not being allowed to join has been changed.
Main cast ARTHUR PENTELOW - Henry Wilks
GEORGE LITTLE - Rev Edward Ruskin
DAPHNE GREEN - Liz Ruskin
DONALD MORLEY - Franklin Prescott
ZIBBA MAYS - Diana Prescott
SHEILA MERCIER - Annie Sugden
ROY BOYD - Dryden Hogben
TOKE TOWNLEY - Sam Pearson
RONALD MAGILL - Amos Braerly
DIANA DAVIES - Letty Brewer

Writer - Anthony Couch
Director - David Green
Producer - Robert D Cardona
Diana Davies makes a pre Caroline Bates appearance as battered housewife Letty Brewer.
Ad blocker interference detected!
Wikia is a free-to-use site that makes money from advertising. We have a modified experience for viewers using ad blockers

Wikia is not accessible if you've made further modifications. Remove the custom ad blocker rule(s) and the page will load as expected.