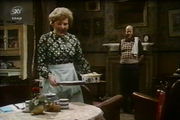 Dryden Hogben
arrives at
The Woolpack
with a loaf of bread. 
Ethel Ainsworth
is in the back room. Amos reluctantly invites Dryden Hogben to dinner with him and Ethel as he does not want to have dinner alone with Ethel. At
Emmerdale Farm
, Sam wonders when Dry will start with the handyman jobs. Franklin Prescott does a deal with Dry.
Joe Sugden
goes to
Bradford
to get apint for the attic. When he returns he says he saw Ethel in a pub knocking back port and lemon, one after the other. Amos overhears this.
Main cast
Guest cast
Writer - David Crane
Director - Michael Snow
Producer - Robert D Cardona
Ad blocker interference detected!
Wikia is a free-to-use site that makes money from advertising. We have a modified experience for viewers using ad blockers

Wikia is not accessible if you've made further modifications. Remove the custom ad blocker rule(s) and the page will load as expected.