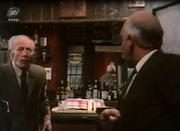 Wally Lumm
and his cronies cause a disruption over his views about
Reverend Edward Ruskin
visiting a Roman Catholic church. He think Ruskin is trying to covert people and wants to protest, and
Henry Wilks
asks him to leave, saying if he does not leave he will call him something that will make a navvy blush.
Christine Sharp
goes looking for
Joe Sugden
. Ruskin invites the Sugdens to a party at the vicarage but minus
Sam Pearson
. 
Franklin Prescott
seems to be avoiding the drink since
Dryden Hogben
's words about giving up alcohol.
Amos Brearly
is having an afternoon nap and is awoken by
Ethel Ainsworth
. Amos worries that she will want to marry him. Henry says he will make sure that wont happen.
Main cast
Guest cast
Writer -
Director -
Producer -  Robert D Cardona
Ad blocker interference detected!
Wikia is a free-to-use site that makes money from advertising. We have a modified experience for viewers using ad blockers

Wikia is not accessible if you've made further modifications. Remove the custom ad blocker rule(s) and the page will load as expected.