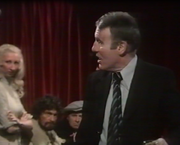 Franklin Prescott
causes a scene in 
The Woolpack
in front of wife 
Diana
which leaves the other customers stunned.
Dryden Hogben
looks on at the commotion and is not pleased.
Joe Sugden
says to
Henry Wilks
that he had a row with
Christine Sharp
yesterday. Diane worries that Franklin is drinking too much and they have a row. She goes to bed. He then pours himself another drink.
Main cast
Guest cast
Writer -
Director -
Producer -  Robert D Cardona
Ad blocker interference detected!
Wikia is a free-to-use site that makes money from advertising. We have a modified experience for viewers using ad blockers

Wikia is not accessible if you've made further modifications. Remove the custom ad blocker rule(s) and the page will load as expected.