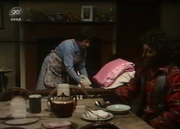 Henry Wilks
feels foolish as there has been no sign of the kingfisher since he thought he heard it in the woods.
Sam Pearson
soon admits to
Christine Sharp
that he was the one who played a trick on Henry and
Lewis Potter
and played the flute which they mistook for a cuckoo. Henry hears the sound again and rushes out but sees Sam playing the flute. They all see the funny side expect one person,
Annie Sugden
who scowls at her father. Henry Wilks has to answer to his friend
Amos Brearly
about his intentions with
Ethel Ainsworth
.
Main cast
Guest cast
Writer -
Director -
Producer -  Robert D Cardona
Ad blocker interference detected!
Wikia is a free-to-use site that makes money from advertising. We have a modified experience for viewers using ad blockers

Wikia is not accessible if you've made further modifications. Remove the custom ad blocker rule(s) and the page will load as expected.