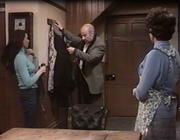 The butchers shop run by The Jacksons has found that one of their lamb chops has gone missing.
Diana Prescott
and
Alison Gibbons
talk about this in the shop.
PC Fred Hallam
walks round
the forge
and finds that one of the windows is open. He suspects that
Dryden Hogben
could be responsible. Alison later says to Dry that PC Hallam is looking for him.
Guest cast
Writer - Neville Siggs
Producer - Robert D Cardona
Director - Michael Snow
Ad blocker interference detected!
Wikia is a free-to-use site that makes money from advertising. We have a modified experience for viewers using ad blockers

Wikia is not accessible if you've made further modifications. Remove the custom ad blocker rule(s) and the page will load as expected.