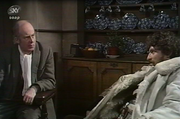 Dryden Hogben
puts a casual question about
Emmerdale Farm
to Sam Pearson, and learns more than he bargained for. Sam says the house that stood on the site of the current Emmerdale fell down one night while the husband and wife were asleep. Henry Wilks finds he has been invited to Lord Gargrave's Wild Life Ball. Diana Prescott is worried that her carpet does not fit but Dry assures her the carpet will spread. Mr Wilks teases Amos over Mrs Ainsworth and even whistles "Here Comes The Bride" to him.
Alison Gibbons - Carolyn Moody
Guest cast
WRITER Anthony Couch
DIRECTOR Bill Cole
PRODUCER Robert D Cardona
Ad blocker interference detected!
Wikia is a free-to-use site that makes money from advertising. We have a modified experience for viewers using ad blockers

Wikia is not accessible if you've made further modifications. Remove the custom ad blocker rule(s) and the page will load as expected.