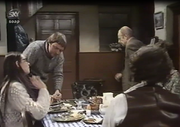 It is dinnertime at
Emmerdale Farm
and Christine is later grateful for Annie Sugden's hospitality towards her. Diana lets Dryden take a shower at her house. Meanwhile a 16 year old calls in on the Woolpack to drop off a letter to Amos Brearly. It is from Ethel Ainsworth.
Guest cast
Writer - David Crane
Director - David Green
Producer - Robert D Cardona
Ad blocker interference detected!
Wikia is a free-to-use site that makes money from advertising. We have a modified experience for viewers using ad blockers

Wikia is not accessible if you've made further modifications. Remove the custom ad blocker rule(s) and the page will load as expected.