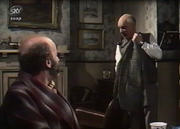 Dryden Hogben earns a packet of tea and a tin of grapefruit. Joe Sugden is still not impressed by Dry hanging around. Later in the Woolpack Dry teases Amos about Ethel Ainsworth. Amos and Mr Wilks duscuss going to the Gargrave Ball. Franklin and Diana are moving into the Crossthwaites old home.
Guest cast
Writer - Kevin Laffan
Director - Bill Cole
Producer - Robert D Cardona
Ad blocker interference detected!
Wikia is a free-to-use site that makes money from advertising. We have a modified experience for viewers using ad blockers

Wikia is not accessible if you've made further modifications. Remove the custom ad blocker rule(s) and the page will load as expected.