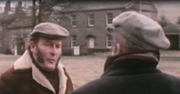 Amos and Sam meet on the village green and Amos says he is going to see Lord and Lady Gargrave. 
Dryden Hogben
is making his presence in the village very much felt and Joe Sugden is not impressed with Dry and his interest in Christine. Joe and Henry discuss plans for the future of Emmerdale Farm in which Joe says he has no interest in the old mill or Hawthorn Cottage. Dryden calls in on Emmerdale Farm and joins Joe and Christine for breakfast. He says he will repay the favour by helping to much out the cow shed.
Guest cast None
WRITER - Kevin Laffan
PRODUCER/DIRECTOR - Robert D Cardona
Ad blocker interference detected!
Wikia is a free-to-use site that makes money from advertising. We have a modified experience for viewers using ad blockers

Wikia is not accessible if you've made further modifications. Remove the custom ad blocker rule(s) and the page will load as expected.