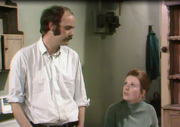 Matt tells Tom Merrick he is not pulling his weight around the farm. Marian Wilks questions Jack about Ruth Merrick and they argue about whether she should have married Tom. Jack says he does not believe in marriage, but he tells Marian that he loves her. She tells him to go & leave her alone - she despises him. Matt & Jack go to Bradford & buy a landrover for the farm. Marian tells her father that there will never be anything between her & Jack Sugden. Ruth takes her children to the village where she meets Jack & apologises for Toms behaviour. She asks Jack to sack Tom but Jack needs a good reason to, in truth Ruth is planning for her, Tom and the kids to leave the area. Jack tells Marian he loves her & wants to marry but she refuses. Matt & Tom row. Jack visits Ruth at home & offers to buy Jackie's childish pictures for 100 pounds and he writes Ruth a cheque. Tom Merrick tries to blackmail Jack - he threatens to tell Henry Wilks that Jack has been sleeping at Inglebrook while he is in hospital. Jack gives him 2 weeks wages and sacks him. Ruth tells Jack that she is moving to Leeds.
Main cast
Guest cast
WRITER
DIRECTOR
PRODUCER
EXECUTIVE PRODUCER
Last appearance of Tom Merrick until Episode 623 (2nd December 1980).
Last appearance of Ruth Merrick until Episode 125 (7th January 1974).
First appearance of Jackie Merrick although in this episode he was played by an unknown child, and final appearance until Episode 599 (9th September 1980) when Ian Sharrock played the role.
First appearance of Sandie Merrick although she was played by Jenna Mayers Clarke, and final appearance until Episode 599 (9th September 1980) when Jane Hutchinson played the role.
Ad blocker interference detected!
Wikia is a free-to-use site that makes money from advertising. We have a modified experience for viewers using ad blockers

Wikia is not accessible if you've made further modifications. Remove the custom ad blocker rule(s) and the page will load as expected.